Sasthi Vratam
How to observe fasting for God Muruga:
Shasti Vratam or Upvaas is an important fast dedicated to Lord Muruga or Kartikeya. There are two Shastis in a Hindu lunar month. One Shasthi after Amavasya and another after Purnima (Pournami). The Shasti coming after Amavasya (new moon night) is the one meant for fasting. In simple terms, the Shasti coming during the increasing or growing phase of the moon. Lord Muruga is also known as Subramanian or Skanda or Kanda.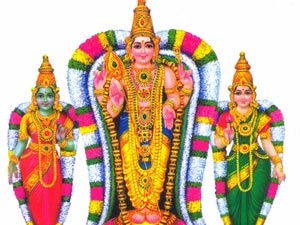 How to observe Shasti Vratam?

The Shasti fasting begins with sunrise. The fast is broken on the next day morning after praying to Lord Surya (Sun God).Most people observing the fast make it a point to visit Murugan Temple on this day.
It is a complete fast in many places. But this might not be quite possible for many people due to job, health and other reasons. So many people take some sort of vegetarian food on this day – this is usually a single meal in the afternoon or night. Many people also maintain fast by eating fruits throughout the day. During the time of fast devotees of Muruga listen to stories of God Muruga, reading Skanda Purana or reciting Skanda Sashti Kavasam. Many have early morning bath and visit Muruga temples.
Kanda Shasti Vratam:
Though this Sashti fasting can be observed every month, Kanda Shasti celebration is the most important. It is a 6-day festival in the new Moon phase of the lunar month of Aippasi or Aswin that occurs between months of October- November.
Six temples in Tamil Nadu state of India is considered sacred for God Muruga and this festival is celebrated with grand decorum. The six temples are Tiruchendur temple (Sea-shore temple near Tirunelveli), Thirupparankunram temple (temple near Madurai), Palani Hill or Swami Malai temple (temple near Kumbakonam), Thiruthanigai Hill temple (temple in Chennai) and Pazhamudhir Cholai Hill temple (temple near Madurai).
Importance of six day fasting – Devotees of Muruga prefer to abstain from eating solid food and spend the days in meditation and other devotional exercises. So, after these practices, a true devotee is expected to emerge with a pure consciousness of Muruga, the righteous being. The devotee has a cleaner body and mind triumphing over negative thoughts and tendencies in his or her nature, preparing oneself to receive the pure energy of the Universe.
Mythology of Kanda Shasti:
Mythological stories in different religions relate about our souls journey, the highest pinnacle conquered and the means to reach it.
Once the Gods were being harassed by demons under the leadership of a demon named Surapadma. Unable to deal with these lesser beings, the Gods begged to Shiva for his help. Shiva and Parvati sent their son Muruga, endowing him with divine powers to fight the demons. Muruga is said to have defeated the demon Surapadma after a battle of six days. Therefore, the sixth day is celebrated as Sura Samharan in most of the temples. After singing in praise of Muruga for five days, in many Muruga temples, the incident of victory over asura is enacted by staging effigies of four asuras which are slayed by piercing the lance or Vel of Muruga.
Shasti fasting is considered very sacred because it signifies triumph of God's consciousness within us over the negative bickering in our minds. God's consciousness brings before us many possibilities to overcome hurdles and gain success in our missions.
Apr

May

Jun

Jul

Aug

Sep

Oct

Nov

Dec

Jan

Feb

Mar

Apr

23 PM

24 AM

23

22

21 PM

22 AM

20

18 PM

19 AM

18 PM

19 AM

17

16 PM

17 AM

15

13 PM

13 PM

14 AM

13

09

07 PM

08 AM

07

05

03 PM

04 AM

03

01 PM

02 AM

30 PM

31 AM

29 PM

30 AM

28 PM

29 AM

30
How to perform Skanda Shasti Puja at home?
Here is a simple method to perform Skanda Shasti Puja at home. You can do this Puja on all six days of the Skanda Shasti Vratam or on the Soorasamharam day.
Before beginning any Hindu puja try to create a calm and pleasant atmosphere. Try to keep all the puja items near you.
Puja Items Needed
Small idol or picture of Ganesha
A vel or picture of Lord Subrahmanya
Sandal Paste, water, turmeric, kumkum, flowers and usual puja items
After bath, clean the puja area.
First pray to Lord Ganesha for removing all obstacles.
Now the main Puja begins
First meditate on Lord Muruga – You can do this silently or by chanting Om vali devasena samedha Shri Subrahmanya Swaamine namaha dhyaayaamii
Now invoke Lord Muruga – Take the idol or picture or Vel and keep it near you or hold it in your hands. You can silently pray to Muruga or chant Om Vali devasena… swaamine namaha aavaahayaamii
Now you can place the idol in the appropriate place chosen by you in the puja area – you can chant – Om aasanam samarpayaamii
Now you can sprinkle some water – Om…namaha arghyam
Now you can pour some water on the feet or near the Vel –Om… namaha paadhyam
Sprinkle some water again – Om… namaha aachamaniyam
Now you can sprinkle rose water or usual water – Om… oupachaarika snaanam
Sprinkle some water again as final purification –Om…snaanaanandharam aachamaniyam
Now you can offer turmeric paste or if you have special dress for idol you can offer it –Om… vastraartham akshadaam
Now you can offer Sandal Paste to the Vel or idol – Omgandhaan dhaarayaami
Now you can do decorations with flowers or garlands –Om…gandhsyopari alankaaranaartham akshadaam
Now you can offer kum kum – Om…haridraa kumkumam
Finally, you can offer some flowers – Om…pshpaih poojayaami
Now you can light the lamp and chant Skanda shashti kavacham, Subrahmanya Bhujangam or read Skanda Purana or any tale related to Lord Muruga.
You can also perform archana after lighting the lamp or your usual method of daily puja with camphor and agarbathis.
If you have prepared any food (navediyam) you can offer it to the lord and perform Arathi.
At the end of the Puja you can thank Lord Ganesha for helping in successfully conducting the pooja